Enjoy the taste of our
Homemade Steak & Ale Pie
Mixed Bean Chilli
Popular Stack Burger
Isle of Wight Ice Cream
Pinot Grigio Rose
Isle of Wight Ales
---
Situated on the South coast of the Isle of Wight, with unbeatable ocean views, The Wight Mouse is truly an escape within an escape.
Visitor Notice
If you are experiencing flu-like symptoms such as:
A Fever
Coughing
Shortness Of Breath
Do not visit today
Please reschedule.
Thank you for helping to keep COVID-19 out of our premises.
Read our customer journey with a difference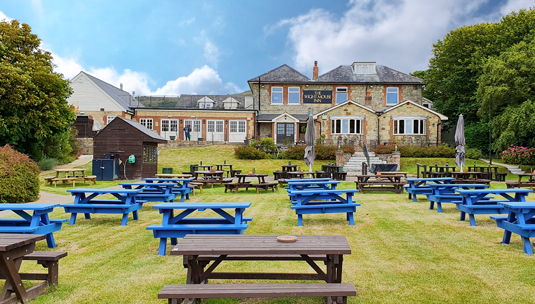 FRI - SAT
11:00 AM TO 11:00 PM
SUN - THU
11:00 AM TO 10:00 PM
Our customer journey with a difference - Welcome back
We have studied the government guidelines and made changes to tables and our operating procedure to keep yourselves and our team as safe as we can. We will be reviewing our practices regularly to try and get it right for you all – please bear with us as it is new to us too.
Even though we are a big spacious pub we ask that all adhere to social distancing recommendations and refrain from moving any tables. A more rigorous cleaning regime has been implemented and there are hand sanitisers sited at all entrances and around our building indoors and out.
Please note we re-open with a reduced menu, team and opening hours so ask for your patience and understanding. We may not always get it right first time but as always endeavour to be the best at what we do. All food and drink has to be consumed whilst seated. No vertical drinking.
Please sanitise your hands-on entry to our premises
Please delay your visit if you, or anyone you have had contact with, have symptoms of coronavirus
Breakfast is served 8.30-10am 7 days a week (bookings preferred but not essential) Food is served 12 noon-9pm 7 days a week (bookings preferred but not essential)
Bar 11am-10pm Sunday-Thursday 11am-11pm Friday & Saturday
Bookings are advised for food and drink but not essential call 01983 730431 from 4th July or email info@wightmouse.com at any time. Please do not try to book on FB as we do not monitor it daily. Prompt arrival pleaseJ We ask that the lead party member leave us with details for NHS Test and Trace each time they visit
No printed menus but there are QR codes that take you straight to our menu or you can take a picture of our board
We only take bookings for inside tables – you are welcome to sit outside on arrival, we ask that you let us know so we can re-allocate the inside table to another party.
Inside we will show you to your table and ask that you remain seated (including children) for the duration of your visit. We will be operating full table service inside. All children should be accompanied to the toilet and you may wish to bring colouring or games with you as we are unable to provide these in the current situation.
Outside customers will be asked to come to a designated till point for food and drink orders (limited to one from each party). Here we will give you cutlery and sauces. You will also be asked for your contact details – forgive us if we ask more than once.
Tables and chairs inside and out have been laid out so as to adhere to social distancing regulations – a minimum of 1 metre, mitigated if this is not possible. Please do not move them.
Children to remain seated unless going to the toilet/playing on the outside play equipment and must be supervised AT ALL TIMES - please do not let them run around as this can impact on others' enjoyment and safety
Accommodation check in is now 5pm and check out 9.30am to facilitate a deep clean between guests. Breakfast will be full service.
Breakfast is served 8.30-10am 7 days a week (bookings preferred but not essential) Food is served 12 noon-9pm 7 days a week (bookings preferred but not essential)
Bar 11am-10pm Sunday-Thursday 11am-11pm Friday & Saturday
We look forward to welcoming you all back. Please be assured we have worked hard to ensure that The Wight Mouse is as clean and safe as possible both out front and behind the scenes to keep all of you and us as safe as we can in these unprecedented times. We will be continually sanitising all touchpoints throughout the day.
PS- We have removed all our cushions but you are welcome to bring your own and please be prepared for all weathers as it is unlikely we will be able to accommodate all from outside if the heavens suddenly open.
Book your
weekend getaway
mid-week stopover with us
---
All our 10 en-suite bedrooms are full of character. Perfect for a restful night's sleep. After a long day of work, or exploring the beautiful surrounding area, climb into a large comfy bed surrounded by everything you need for a thoroughly enjoyable stay.
Rooms available from £99.00
Book directly with us today! 01983 730 431.
Our Clean Bedrooms Promise: Enhanced cleaning, disinfecting of all hand contact services & reduced paper literature.